summit uniforms
meeting all your uniforms needs since 1971
Monday-Friday: 9:00am - 5:30pm
Saturday: 10:00am - 3:00pm
Sunday: Closed
Summit Uniforms is a family run business that has been operating since 1971. We provide uniforms to Law Enforcement, Fire Rescue, EMS, Postal Service, Transit, Park Services, as well as Tactical Clothing.
Joe Earnshaw started Summit Uniforms in 1971 in a small garage warehouse. Over 4o years later, the second generation of children run the family business!
We're committed to meeting all of your uniform needs serving you with honesty, quality, and value.
Our Promise To You
Summit Uniforms has well over 40 years of uniform experience between two generations of the Earnshaw family. We have decades of extensive knowledge regarding all ranks of law enforcement and other departmental uniform needs.

We are at the forefront of this quickly changing economy and we work closely with our clients because we are fully committed to meeting and exceeding expectations. We also believe in keeping our services affordable to our clients, we make sure to work around your budget.

We are proud that so many of our clients have repeatedly turned to us for their uniform needs, and we work hard to earn their loyalty every day.
The Summit Story
Joe Earnshaw and his wife Kathy started Summit Uniforms in 1971. At the time, Joe was an officer for the San Jose Police Department. Not long after joining the force he recognized the city of San Jose needed a top-quality uniform store. With his degree in Business Administration from San Jose State, Joe and Kathy started their business in a modest 500 square foot store.
Kathy managed the business during the days, while Joe worked on his three days off and in the late afternoons. By 1977, it was evident that the 500 square foot space was no longer adequate. With an expanding customer base, Summit Uniforms moved to a 3,000 square foot showroom where they remained for ten years. As the business flourished to include Fire, Postal, Transit, Park Services, and EMS uniforms, they moved once again in 1987 to their current 8,000 square foot location on Meridian Avenue.
Patrons immediately feel at home in this friendly, family operated business. Both having retired recently, Joe and Kathy have handed down the business to their two children, Patrick and Tricia.
Patrick has been the backbone of Summit since he began managing it, in 1992, striving for the ultimate experience of customer service. Summit Uniforms employs several full time sales clerks and four tailors. With years of experience, their tailors specialize in the customization of all uniforms. Whether it be uniforms, boots or accessories, you'll always find what you're looking for in their million dollar inventory.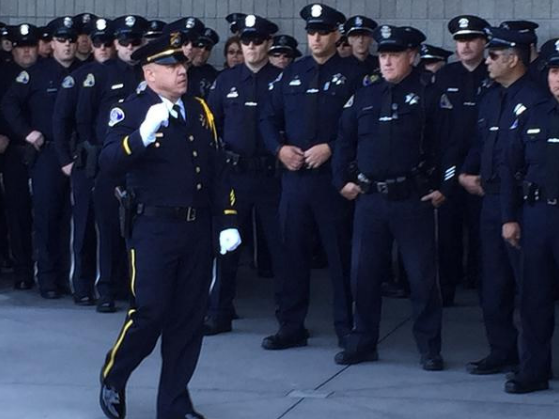 Services
We offer an onsite full service tailor shop for all of your Class A uniforms needs!
Custom hemming on pants (only if you purchased item from us!)
Sewing/fixing of patches
Installation of patches rank insignia and services stripes
Installation of zippers (as well as hidden zippers inside clothing)
Police
Fire
EMS
Postal
Transit - VTA
Park Services
Security
Tactical Clothing
Shoes & Boots
Variety of Accessories
545A Meridian Avenue
San Jose, CA, 95126
United States
Frequently Asked Questions:
1. Do you carry scrubs or nurses uniforms?
No, we do not carry scrubs. Our recommendation would be Absolutely Uniforms on Bascom.
2. What are your tailor shop hours?
During the week, our tailor shop closes at 5:00, whereas the store closes at 5:30. On Saturday's, our tailor shop closes at 2:30, whereas our store closes at 3:00. If you are looking to get an alteration done, make sure you come in before those times.